Kelanmee Shetland Sheepdogs
Where quality and conformation is everything
Illustrated Standard
(AUSTRALIAN BREED STANDARD EXTENSION)
With the kind permission of the ANKC for their use of the Breed Extention

GENERAL APPEARANCE CHARACTERISTICS TEMPERAMENT HEAD AND SKULL MOUTH EYES
EARS NECK FOREQUARTERS BODY HINDQUARTERS FEET TAIL GAIT/MOVEMENT
COAT COLOUR SIZE HISTORY ACKNOWLEDGEMENTS

The current format of the Breed Standards (published in 1986) results from a Kennel Club decision that it would be convenient for all Standards to conform to an identical unified format.
While in the case of the Shetland Sheepdog the present version covers the essential points, some additional evaluation of these will certainly be required by the serious breeder, exhibitor and judge.
The unified layout of the current Standard has involved slightly different paragraph headings and consequent rearrangement or splitting up of various requirements when compared with the previous Standard. In the following evaluation, some of these qualities have been brought together in order to add clarity or emphasis. Since the first requirement of any standard is to convey a vivid, instantly recognisable mental picture of the specified breed, the Shetland Sheepdog's family resemblance to the Rough Collie (of which, however, it is not an exact miniature copy) makes a good starting point.
---
GENERAL APPEARANCE
Small, long haired working dog of great beauty, free from cloddiness and coarseness, action lithe and graceful. Outline symmetrical, so that no part appears out of proportion to the whole. Abundant coat, mane and frill, shapeliness of head and sweetness of expression combine to present the ideal.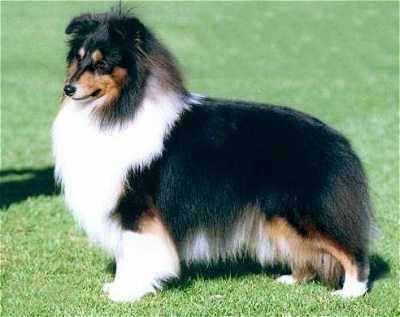 A combination of the first sentence of this heading with phrases taken from later paragraphs would read "longhaired working dog of great beauty. Strong and active but lithe and graceful, free from cloddiness and coarseness" This would complete a picture of substance and refinement in perfect balance. The dog should of course always appear masculine and the bitch feminine.
---
CHARACTERISTICS
Alert, gentle, intelligent, strong and active.
---
TEMPERAMENT
Affectionate and responsive to his owner, reserved towards strangers, never nervous.

It will he helpful to read these two paragraphs in conjunction with one another. The resultant combination of qualities explains why, given sensible rearing, the Shetland Sheepdog makes an ideal family dog and why, with sympathetic training, he shows such a marked aptitude for Obedience and Trials work.
Go to next page .... Head Properties >

Page 1
Illustrated Standard prepared by Judy Horton - (All Breeds judge)
Contact Details
Kim at Kelanmee Shelties
Southern Highlands, NSW, Australia
Email :
[email protected]