Kelanmee Shetland Sheepdogs
Where quality and conformation is everything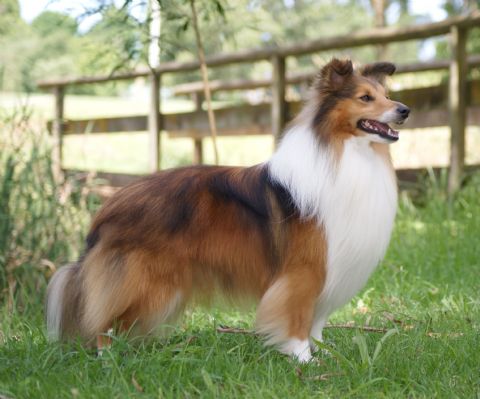 BISS, BIS, RUBIS Grand Ch. Kelanmee Top Deck
Grand Ch. Deerod Rich Reward x Kelanmee Tuscan Sun
Date of Birth: 15th March 2007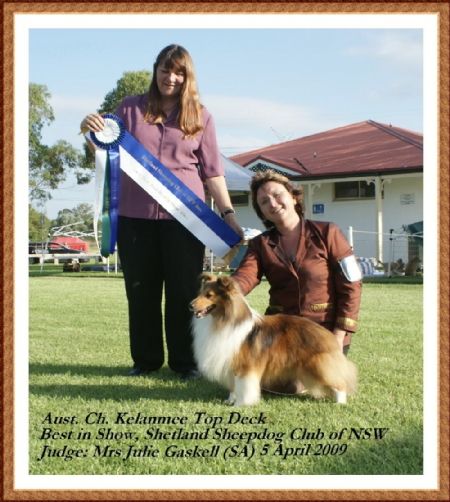 DECKER IS A BEST IN SPECIALTY SHOW
BEST IN SHOW (All Breeds)
RUNNER UP BEST IN SHOW (All Breeds)
A MULTIPLE BEST IN GROUP, MULTIPLE RUNNER UP BEST IN GROUP
The second "Pea in the Pod"......OUR Dickdog. The once goofy boy is now growing into a confident young man! Decker is a Specialty Show winner (see pic above), All Breeds Best in Show (see pics below) and Runner Up to Best in Show (Mrs D Wilson NZ), 2008.
A showy dog who gives his all and is so eager to please!
Consistently winning Baby, Minor, Puppy and Junior classes at All Breeds Championship Shows, Decker has been a force to reckon with at Specialty Shows. At the Shetland Sheepdog Club of NSW October 2007 and Easter 2008 Championship Shows, Decker was placed 1st in Minor and 1st in Puppy (respectively) and also took out Best Under 18 months Dog at both Shows (this special class is only open to those first place winners of Minor, Puppy and Junior Classes, and those winners then compete for Best Under 18 Months Dog). At the St George District Kennel Club Show May 2008, with a combined entry of 63 shelties, Decker attained his Australian Championship title. At the same show he was Runner Up Best of Breed to the Best in Group winner, Ch Nigma Steffi Graf, this was no easy feat.
| | |
| --- | --- |
| | |
| Above pic - 5 months | Above pic - 20 months |
The maturity of a Shetland Sheepdog sometime takes years of waiting and watching. The above photographs as a baby and adolescent are good examples of the maturing years of a sheltie. Decker has a beautiful outline, I'm sure you would agree. He has good reach and arc of neck, and carries his head elegantly and proudly. He has good reach, his turn of stifle gives him good drive from the rear, and correct lay of shoulder. He has lovely bone inherited from his father. We thank Deerod Shelties of NSW Australia, the opportunity of using Grand Champion Deerod Rich Reward. It certainly clicked for us!
BEST IN SHOW
Nowra District All Breeds Kennel Club
Saturday 9 August 2008

Lots of 'Firsts' occured today!

Best Exhibit in Group and Best Exhibit in Show!
Working Dog Specialist John Birch (NSW), followed by
General Specials Judge Megan Markotany (NSW).

Decker's finest achievement was attaining our first
Best in Show
under the 'Kelanmee' Prefix.
ACT Combined Collie and Shetland Sheepdog Club Championship Show

Judge: Mrs Donna Saltau (Vic)
'Shelbronze Shetland Sheepdogs'

June 2008

An honour to have had our Shelties judged this day.

Decker finishes with Dog Challenge
and took the

Junior Class in Show.
Contact Details
Kim at Kelanmee Shelties
Southern Highlands, NSW, Australia
Email :
[email protected]