Kelanmee Shetland Sheepdogs
Where quality and conformation is everything
Ch Kelanmee Richly Decked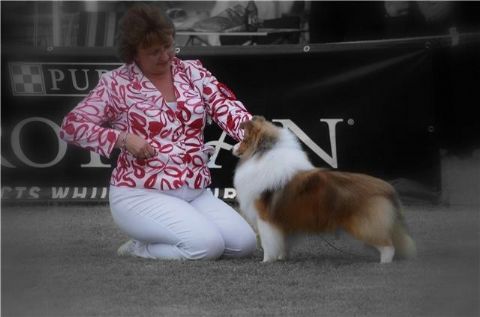 Multiple BEST IN SHOW wins at 16 months! Well done little mate!
"You would have to agree that there is nothing that can compare to an 'English' head"
Sire: Aust. Ch. Kelanmee Top Deck x Dam: Aust. Ch. Nigma Steffi Graf
DOB: 18 April 2009
Eyes: CEA NORMAL & Genetically Clear CEA
As predicted 2010 is the start of a very promising show career. Nudge is titled at 16 months exhibited under respected All Breeds Judge Mr Iain-James Hinde (VIC) September 2010 with two Best in Shows under his belt. This was his second Best in Show in three weeks. The first under Mr Simon Sim (Philipines) at Murray Valley ABKC August 2010 with over 600 entries. Those who love his super temperament really love him and his soundness, and we couldn't be happier.

Best in Group (Group 1) Handler Craig Hatzikiriakos
and Intermediate in Show Handler Luke Tresidder
Dogs NSW Christmas Show 2011
Judge: Mr Ron McMahon (Group 5 Specialist), GSJ: Mrs Carolyn Butler



Armidale ABKC - 3 Day Show
3 X Best in Group (Group 1) 2 x Intermediate in Show
Judges: Sue Bownds, Michael Camac, Graham Kerr, Judy Horton

DOGS NSW Puppy of the Year competition in January over 115 puppies were
entered and he finishes in the final 8 - WOW!
1st 6-12 Puppy Sweepstakes - Mrs Anne Collyer (VIC) 'Kimbush'
SYDNEY ROYAL EASTER SHOW 2010 - Absolutely delighted1st 6-12 (46 entries)
Puppy Sweepstakes Sydney Royal Easter Show - Mrs Judy Horton (VIC)
Murray Valley ABKC - Best in Show @ 14 months - Mr Simon Sim (Phillipines)
Newcastle Toy & ABKC - Best in Show @ 16 months - Mr Iain Hinde (VIC)
Albion Park ABKC - Best in show @ 20 months - Mrs Judy Horton (VIC)
Albion Park ABKC - Runner up to Best in Show @ 20 minths - Mr Iain Hinde (VIC)

Baby Class - 4 Baby in Group
Minor Class - 4 Minor in Group and through to Minor in Show
Puppy Class - 3 Puppy in Group
Junior Class - 4 Junior in Group and through to Junior in Show
Intermediate - 7 Intermediate Class in Group through to Class in Show
Handled by Kim and Luke Tresidder and frequented by Craig Hatzikiriakos (Hatztoo Shetland Sheepdogs)
Why do you ask that this dog is winning? Correct small hocks providing drive from the rear with good turn of stifle; balanced head - correct eye placement, neat ears giving that desired sweet expression; size is 14.5" which is ideal per the standard; an excellent body with abundant mane, neck and frill; a temperament rarely seen in a sheltie.

"Opinions are reserved for the judge but the respected judges who have placed him have it right!"
Major Competitions at 3 years of Age
Contact Details
Kim at Kelanmee Shelties
Southern Highlands, NSW, Australia
Email :
[email protected]